Carbon Toning Laser Treatment
Carbon Toning Laser Treatment
Carbon Toning is Creating Buzz in the Field of Cosmetic Therapy, Know About It in Brief! Facial
Skin rejuvenation is one of the revolutionary skin treatments which is also known as carbon toning, Hollywood laser facials, carbon laser facials, carbon peel therapy, carbon laser toning, and carbon laser peel rejuvenation. It is a quick, non-invasive procedure used to smooth out the texture of the skin and minimise the appearance of wrinkles, fine lines, and open pores. Dr Kasana's Clinic will help you in choosing the best skin treatment for you as per your skin issues and type. 
Contact Us for Information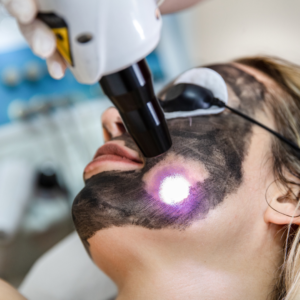 What is Carbon Toning Treatment?
Carbon Toning is a cosmetic therapy which involves the carbon along with laser devices and technologies. These two things are mainly used in this peel without causing any kind of after effects, as in this treatment the skin is heated after which carbon is burst using the laser device. Carbon laser toning is a quick and painless technique used to assist improve skin's appearance. Carbon toning is beneficial for people with oily skin, acne, and enlarged or clogged pores. If you are starting to notice the symptoms of sun damage on your skin, this therapy is very helpful.
What Does Carbon Toning Treat?
In addition to helping relieve congested skin, Carbon toning balances skin tone. Additionally, it eliminates skin pigmentation, which can appear for a variety of causes, such as UV damage, inflammation, hormonal fluctuations, acne, and a reaction to some drugs. It also removes the acne scars and acne. The entire procedure aims to get rid of the bacteria, oil, and debris that can clog pores and lead to acne. According to doctors, it can get rid of acne that is already there and stop future breakouts for weeks or months. ‌
To effectively treat acne, you might require several treatments. Because the procedure is non-irritating, it doesn't exacerbate the discomfort of inflamed skin. Without experiencing any side effects, you can perform more carbon laser peels as needed. 
Benefits of Carbon Toning
Reduces the openings of enlarged pores.

Reduces fine lines and wrinkles.

Rejuvenates your skin.

Improve uneven skin tone.

Treats acne and reduces acne scars.

Improves the texture of skin.

Tightens the skin.
Why Choose Dr. Kasana's Clinic for Carbon Peel Laser Treatment?
Dr. Kasana's clinic stays up to date with the latest technologies and uses good quality products as well as ingredients for every treatment. The Carbon Toning / Peel Treatment procedure is very affordable at Dr. Kasana's Clinic. Get your skin treatment done in the best clinic in Greater Noida, Delhi/NCR at an affordable range. Well-known cosmetologist Dr. Lalit Kasana has specialization in such treatments, you can check the review section where you will know how the services at this clinic are.