What is Hydrafacial treatment? | benefits, cost & steps
what is a hydrafacial treatment?
HydraFacial Treatment means hydrating and moisturizing the skin. Hydra facial is a technique for deep cleaning, exfoliation, and skin hydration. This is also known as hydra dermabrasion because in this facial exfoliation is done with a hydrating serum. This is one solution for many problems like acne, open pores, dryness, wrinkles, etc. 
It is a non-invasive and painless treatment with zero downtime or inconvenience. Hydra facial is a medical facial that is conducted under the supervision of an expert. It includes multiple different steps, which are cleansing, moisturizing, exfoliation, brightening, brightening, extraction, and rejuvenation.  
How does hydra facial work?
Hydra facial is slightly identical to microdermabrasion but not precisely the same.  Hydra facial instrument uses an exfoliating tip combined with a suction cup to remove dead cells from the surface of your skin. After the complete exfoliation, the hydrating serum is infused into the skin. This is the main reason to consider it more effective than microdermabrasion.
There is no downtime for hydra facials and more convenient for patients. It is a medicated facial so only licensed cosmetologists can perform hydra facials. It is suitable for all skin types, the dark complexion will look slightly better than before. Patients notice a visible difference in their skin just after one sitting.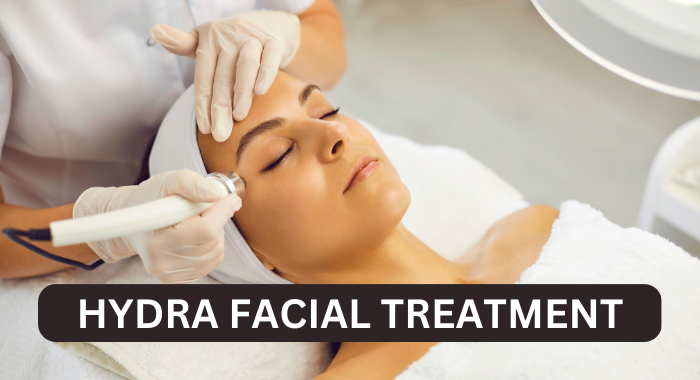 hydrafacial treatment steps
Cleansing

:- this is the first step of a hydra facial in which the face has been cleaned with a great cleanser.

Moisturizer

:- This step in which cosmetologists provide tissue or lymphatic massage to improve blood circulation. 

Exfoliation

:-  a suction cup is used in this step with various hydrating serums like hyaluronic acid, salicylic acid, lactic acid, and glycolic acid in combination with various vitamins which rejuvenates the skin

Brightening

:-  A layer of brightening agent used to apply onto the skin according to your skin type. 

Extraction

:- in this step, all whiteheads or blackheads have been removed deeply.

Rejuvenatio

n:- in the rejuvenation step, LED lights have been used to rejuvenate the skin properly. Which gives flawless and glowy skin.  
Schedule your a Consultation
Benefits of HydraFacial Treatment
Hydra facial is very beneficial and effective for every type of skin. It has several benefits whether you have acne-prone skin, pigmented skin, skin with blackheads, rosacea, etc.
Hydra facial helps to improve overall skin texture. 

It also improves the tone and appearance of the skin. 

It deeply cleans the pores of the skin.

It is very effective in removing debris( a layer of dead cells).

It opens up the clogged pores gently.

It also improves the penetration of hydrating face serums into the skin. 

Hydra facial also increases the anti-aging effects of serum more than using serum alone. 

It reduces wrinkles very effectively. 

It is a customized treatment, this treatment is open to customization according to the skin type.

It is an amazing option facial for people with sensitive skin, hence hydra facial is very safe and effective at the same time. 

It is very effective to make skin firm and tight which reduces the accumulation of oil or dirt on the skin(the main cause of acne).

It also boosts collagen production in your skin.  
Side effects of HydraFacial Treatment
Hydra facial doesn't have any noticeable side effects, it is very safe and effective for each and every skin type. 
There is a myth that salicylic acid used in the hydra facial is not safe for pregnant women, but salicylic acid used in hydra facial doesn't interfere with pregnancy in any manner. 
There are near to zero side effects of hydra facial. It is medicated facial which is only performed by licensed cosmetologists or dermatologists. 
Hydra facial vs Microdermabrasion
Hydra facial performs various functions in just one treatment including extraction of pores, peeling, and hydration. All steps of hydra facial are non-aggressive to the skin. This is more gentle and advanced than microdermabrasion. 
In the hydra facial exceptional nutrients, and hydrating serums are used which absorb into the skin rapidly because due to the cleansing, and exfoliating step, the pores of the skin cleanse and open properly. Hydra facial offers the serum to be deeply absorbed instead of topical application. 
HydraFacial Treatment cost In India
It is not a common facial, hydra facial is a medicated facial that is a medicated facial which is only performed by trained or licensed aestheticians and dermatologists. The cost of hydra facials Treatment in India completely depends on the area/location, facility provided, and machine used for facials, and the specific practice of the cosmetologist. But on  average, a good hydra facial will cost around INR 3500 to 5000 per session. 
This facial is not like regular facials so it is a little expensive but the effects of the hydra facial are visible in just one sitting only. 
Best Clinic for HydraFacial Treatment
Dr. Kasana's clinic is the best place to visit for hydra facials. As we use the best and most advanced techniques of hydra facial. Dr. Kasana's clinic possesses the expert staff for this medicated facial. Our patients are witnesses of our skills in hydra facials. 
We are offering this advanced and medicated facial at our clinic at a reasonable price.  Dr. Kasana's clinic is undoubtedly the best clinic for hydra facials in Noida. Experts at Dr. Kasana's clinic are experienced more than 10 years in skin treatment and are more than eligible for hydra facials. We always value the satisfaction of our patients. We also offer consultation with the best cosmetologist in India ie, Dr. Lalit Kasana. He is the best and most awarded cosmetologist in India. He understands the skin of his patients very well and maintains the standards of ethical practice.